Zadar basketball school International Summer Camp 2014
Kliknite ovdje za verziju na

hrvatskom jeziku › Međunarodni ljetni kamp 2014.
Basketball school "Zadar" is one of the best organized basketball schools in Croatia. All trainings are held in halls of the Sports centre Visnjik – BASKETBALL HALL "KRESIMIR COSIC".
It has got a large number of participants, girls and boys. The school works according to the program verified by the Ministry of Education and Sports.

Coaches for boys: Alen Zdrilić, Umberto Piasevoli, Franko Sterle
Condition and athlete coach: Martina Šango
Coach for girls: Marija Sipina
WHERE will be held ZADAR BASKETBALL SCHOOL INTERNATIONAL SUMMER CAMP 2014?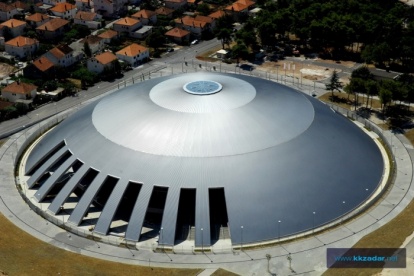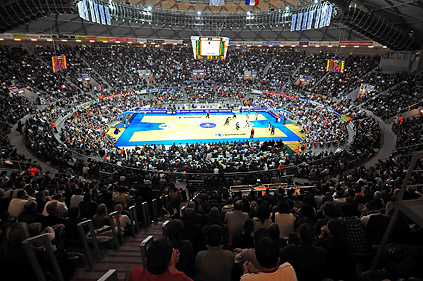 The Sports Centre Višnjik is located on the same north-eastern part of the town of Zadar. From the Peninsula there are 20 minutes of walk, and almost equally from all other parts of the town. The Centre Višnjik can be reached by the motorway from Zagreb for 2.5 hours and by the Adriatic road from Rijeka for approximately 4 hours. The town of Zadar can also be reached by ferry from all main Croatian ports, from all the islands, and from neighboring Italy. The airport connects the town of Zadar to all important towns in Croatia, as well as to all major European capitals.
The building of the hall was begun in 2004. and it was completed in October 2008. Since the 1st October 2008. the Hall got name Kresimir Ćosić.
Kresimir Ćosić was a player ahead of his time, the first who was able to arrange the game. He had an extraordinary sense of space and arrangement of players on the field, knowing to add the ball at the right time. He could done things that no center before him could had done.
1. Member of the HALL OF FAME
2. The first European selected in NBA Draft

Along the hall there is a complex of outdoor courts, basketball playground, athletic track, football playground, handball and indoor soccer playground, volleyball playground and a training ground for exercising.
For a virtual walk through the basketball hall click on the link: http://www.visnjik.hr/virtualna-setnja/
WHEN WILL BE HELD ZADAR BASKETBALL SCHOOL INTERNATIONAL SUMMER CAMP 2014. ?
3rd - 9th July 2014.
AGE?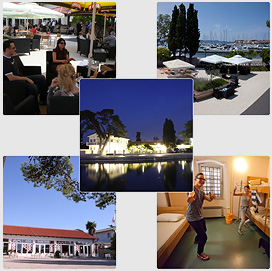 From birth year 1998. to 2004.

The program includes a six-day camp stay in Zadar with accommodation in "Youth Hostel Zadar" that is located on the beach. Meals on full board are organized inside the hostel.
PRICE of the CAMP?
The price of 280 EUR includes:
Transportation from airport to accommodation
Accommodation and meals (3 meals per day)
Transport from accommodation to the hall
Practice that will be held twice a day, in the morning and in the evening at the basketball arena
Medical care
Special guests (famous players and coaches)
Possibility for a trip to National park Kornati
PAYMENT?
Participants can make a payment for BASKETBALL SCHOOL "Zadar" in cash when arriving to camp.
INFO
Fax: +385 23 230 750
Tel: +385 98 188 5256 (Franko Sterle) / Basketball camp manager
Tel: +385 91 380 3381 (Alen Zdrilić) / Basketball camp assistant manager
Executive director of Basketball camp: Giuseppe Pino Giergia
President of Basketball school "Zadar": Tonći Jerak
e-mail: skola.kosarke.zadar@zd.t-com.hr
www.kkzadar.net/skola-kosarke/

Download Application

(Microsoft Word DOC)